How Maxis Digital Marketing Starter Kit made online advertising easier for online fashion retailer BASH Clothing
"It feels like we now have a digital personal assistant who can run ads for us!" - Cecilia Ooi, Director of BASH Clothing
Tell us a bit about yourself and your company - how long have you been in the retail industry?
My name is Cecilia Ooi, and I am the Director of BASH Clothing. BASH Clothing was founded in 2014 so we've been in business for about 8 years now. We sell affordable and trendy female clothing and accessories online at www.bashclothing.co and just like our name says, we are all about happy things like parties and making bold statements. We take pride in empowering girls through fashion and content that help develop a community of strong, positive girls.
Because we always try to do things differently, we stay away from boring, conventional content about fashion and we engage with our audience in the languages they speak as well!

How did your business do during the MCO?
Truth be told, it was business as usual for us because our business model is online by nature. However, our sales were definitely impacted by the lockdown presumably because everyone stayed home so no one needed to dress up to go anywhere.

What are the things that you think your company did right to sustain itself throughout the MCO?
During MCO, we understood that everyone's fashion needs would shift because they were at home most of the time. Tapping into that insight, we thought of what people would wear at home and quickly catered to that need by bringing in more loungewear and comfortable basic pieces that were perfect for work-from-home meetings.

What is the most common problem that you are hoping to solve for your business?
Intense competition is definitely one of the biggest challenges in our industry, especially now that barrier of entry is much lower online. Hence, we would really need to stand out among our competitors.


What was it about the Maxis Digital Marketing Starter Kit that stood out to you the most?
What stood out the most about the Maxis Digital Marketing Starter Kit was the emphasis on getting my advertisements done in a few clicks, which is what busy online businesses like us need. It's the convenience of being able to push our advertising campaigns on Facebook, Instagram, Google ads, or any other platform, all at once on Maxis Digital Marketing Starter Kit.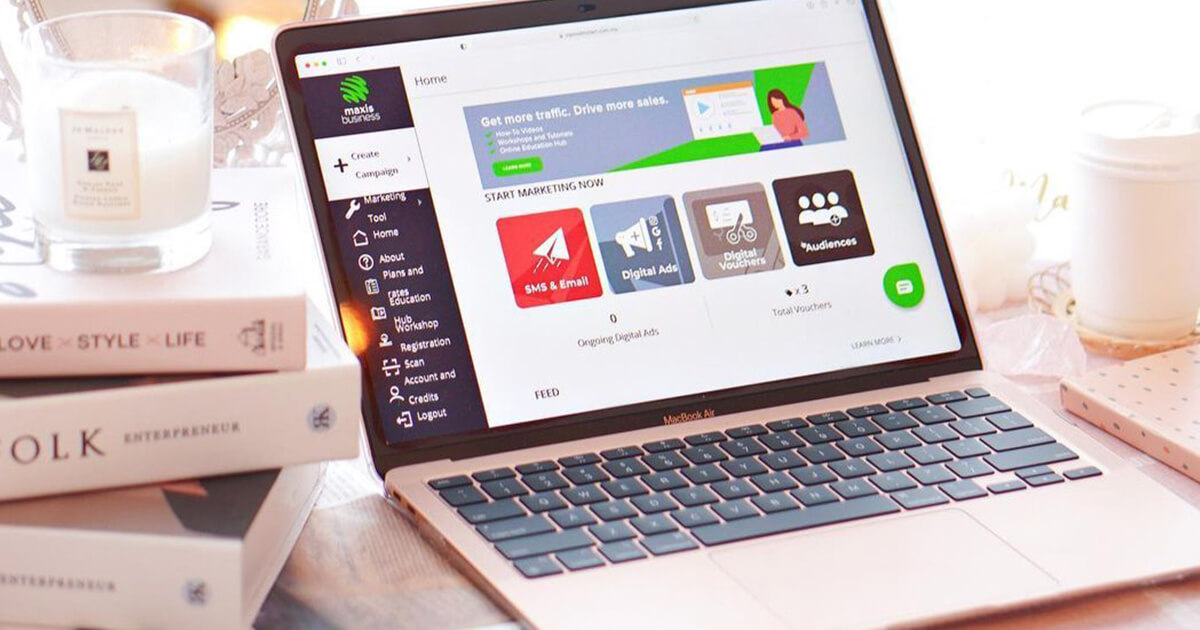 What were the challenges you were able to solve thanks to the Maxis Digital Marketing Starter Kit?

With Maxis Digital Marketing Starter Kit, we were able to quickly run advertisements across all social media platforms and target the right audience. We were also able to save time by exporting all the digital ads platform results in just one click!


What kind of improvements have you noted since adopting the Maxis Digital Marketing Starter Kit?
The most noticeable difference is the online traffic. Our website has received more traffic since we started using Maxis Digital Marketing Starter Kit.


How does it feel to find a digital solution that can help solve your daily challenges?
It feels like we now have a digital personal assistant who can run ads for us!


What advice would you give to other SMEs who are considering taking their businesses online?
Do not resist or refuse to move your business online because as hard as it can be to accept, things will no longer go back to the old ways. Social media and digitalisation is here to stay so really, the time to move online is now!

---
Just like Cecillia Ooi, you too, can be an UsahaWIRA.
---