Four Lessons from Our Four Wins at the 2019 Asia eCommerce Awards
We're proud to have been nominated for Best eCommerce Agency and to pick up four wins at the recent Asia eCommerce Awards 2019.
But what do these awards say about current industry trends and consumer demands – and what lessons can we take away from these campaigns? Let's take a closer look.
Lesson 1: Create a seamless shopping experience (XIXILI, Gold for Best in eCommerce)
As online shopping gains momentum and consumers' shopping behaviours change, the challenge for many retailers is to bridge the gap between their online and offline channels.

Studies have shown that 80% of women wear the wrong size bra. So, we analysed XIXILI's webstore performance and found that a substantial amount of customers showed interest in the webstore, yet did not make their purchases online due to a lack of confidence in getting the right fit.
To overcome this challenge, we executed an omnichannel strategy for XIXILI that aimed to educate women on selecting the right sized lingerie wherever they may be shopping, online or in-store.
We developed a series of videos that spoke to various audiences (e.g., nursing bras for new mothers), and promoted them throughout the buyer's journey on channels such as social media platforms, chat apps, search, and more.
We also developed a try-in-store feature on the XIXILI webstore to enable visitors to book a fitting session at a XIXILI outlet of their choosing, which converted online visits to in-store sales. This seamless shopping experience enabled customers to make an educated decision and buy online or in-store when they were ready.
In 11 months, the campaign produced a 68% increase in revenue and a 111% increase in new customers.
Takeaway: Product knowledge plays a vital role in your conversion rate. Don't discount the value of raising brand or product awareness. Understand your customers' needs and address them at every touchpoint.
Lesson 2: Leverage all available communication channels (XIXILI, Silver for Best Integrated Campaign)
Having created a seamless shopping experience with the try-in-store system, it was time to raise awareness on the issue of selecting the right bra size. So we launched a holistic digital marketing campaign across all platforms and sales channels on International Women's Day (8 March).
The campaign showcased XIXILI's latest products, plus videos on how to find and buy the perfectly fitted bra. It went on multiple platforms, including Facebook, Instagram, Facebook Messenger, search, and email.
XIXILI also activated its Facebook and Instagram shops, which enabled a more convenient shopping experience for its followers on those social platforms. All in, the integrated campaign drove a 122% increase in revenue, and a 110% increase in new customers.
Takeaway: Today's customers are inundated with choices and bombarded with ads. Rise above the noise with relevant content to pique interest in your product and drive engagement.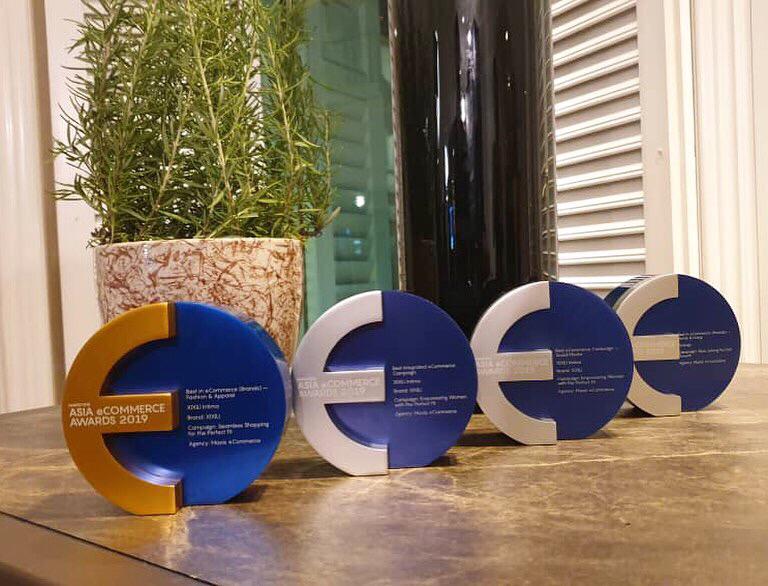 Lesson 3: Adopt a full-funnel targeting approach to drive conversion (XIXILI, Silver for Best eCommerce Campaign – Social Media)
To further break down the barriers to purchase for XIXILI, we developed a full-funnel targeting approach that would target customers at every stage of their buying journey.
Discovery
We used two different video ads on Facebook and Instagram to highlight the issues women faced when wearing ill-fitting bras. One video addressed women in general while the other communicated to mothers the importance of having a perfectly fitted nursing bra.
Consideration
Educational ads showcasing products with detailed descriptions and a wide range of sizes were used for retargeting engaged audiences (those who viewed the videos or engaged with XIXILI social media posts).
Conversion
We had a 'Last Piece Sale + Free Shipping' remarketing campaign for the product browsers and check-out initiators. By highlighting 'last piece,' we created a sense of urgency to encourage people to buy now.
Re-engagement
We re-engaged existing customers with new product collections and tailored messaging to invite them to return to the webstore.
With this approach applied across Facebook and Instagram, the conversion rates and the number of transactions increased by 129% and 188%, respectively.
Takeaway: A full-funnel targeting approach involves understanding your audience at every level of their buying journey. This would allow you to attract the correct audience, nurture leads into customers, and drive more revenue.
Lesson 4: Create exclusive content and offers for your webstore (Kuvings, Silver for Best in eCommerce – Home & Living)
With the highest rates of obesity among Asian countries, Malaysia would seem to be a good market for a Korean kitchen appliance maker looking to promote healthy living with its lineup of premium juicers and blenders.
Yet, Kuvings found itself struggling to establish a dominant presence in a competitive market. Instead of eager customers lining up for its wares, it faced an uphill challenge of communicating the value of its products to an audience that was not familiar with the concept of juicing for health benefits.
We addressed this challenge by creating content tailored to help Kuving's customers and target audiences live better and make informed decisions about buying a juicer. Having a content-rich online store meant that customers were able to learn and shop at their leisure. It also allowed Kuvings to create exclusive online offers and reach customers across the country without the geographical limitations of a brick-and-mortar store.
The company also started the 'My Kuvings' Facebook group that became a community hub for its ambassadors and customers to share their experiences and tips on juicing.
Finally, we launched the 'Happier and Healthier with Kuvings' campaign that featured the testimonials of its customers, which provided social proof of its products' efficacy. Video testimonials were particularly effective in propelling the launch of the Kuvings B1700 juicer, which was a more affordable model targeted at a younger audience.
By educating the market, launching a Facebook community, and adopting customer-centric technologies such as direct debit payment and chatbots, Kuvings saw its revenues jump 500% in its first year online.
Takeaway: A webstore isn't just about selling. You have full control to entertain, educate, and reward your customers without the restraints of a third-party platform. And that can make all the difference.
In summary, what drives results is delivering a hyper-personalised shopping experience. If you're just starting out, we'd suggest working on getting the foundations right. This includes:
Studying industry trends and analysing consumer data.
Mapping out the buyer's journey and targeting customers with solutions to their problems.
Creating a seamless shopping experience that conforms to your customers' preferences, both online and offline.
Ensuring that the content on our webstore is detailed, relevant, and experiential to raise brand and product awareness.
As a retailer, the road to success through digital marketing is clear.
---
You too, can bring your business to the next level with our award-winning team.
---