Three Ways to Win Any Holiday Season


It's that time of the year again. Your customers have had a long and busy year; they're winding down, getting in the mood for the festive season – and eagerly anticipating the Year End Sale.
This final quarter will be your highest performing quarter of the year – but, with that said – also your most competitive.
Having a strong acquisition strategy is key to winning this, or indeed, any other holiday season. Here's how.
1. Start early to win new customers
The top marketing channels to attract customers with paid ads are Facebook and Instagram, which will make up the bulk (as much as 70%) of your new customers for the season.
Generally, it's not uncommon for the cost of ads to spike during festive periods, resulting in higher customer acquisition costs and lower margins.
Our advice? Start early. Get your customers involved by running engaging ads. Build brand awareness by capturing interest through thumb-stopping ads to build retargeting audiences.
Leverage the holiday buzz and build customer anticipation by advertising teaser previews of your holiday offers while maintaining your top-of-mind position through remarketing.
One brand that successfully did this is Focus Point, who offered a RM50 promo code with a minimum spend of RM100 between 11:00 a.m. and 4:00 p.m. on 11.11 (Singles' Day). The company limited the promo window to create a sense of urgency and applied attractive lifestyle imagery for greater relevancy and excitement. These tactics increased the conversion rate and return on ad spend (ROAS) by 283.5% and 26x, respectively.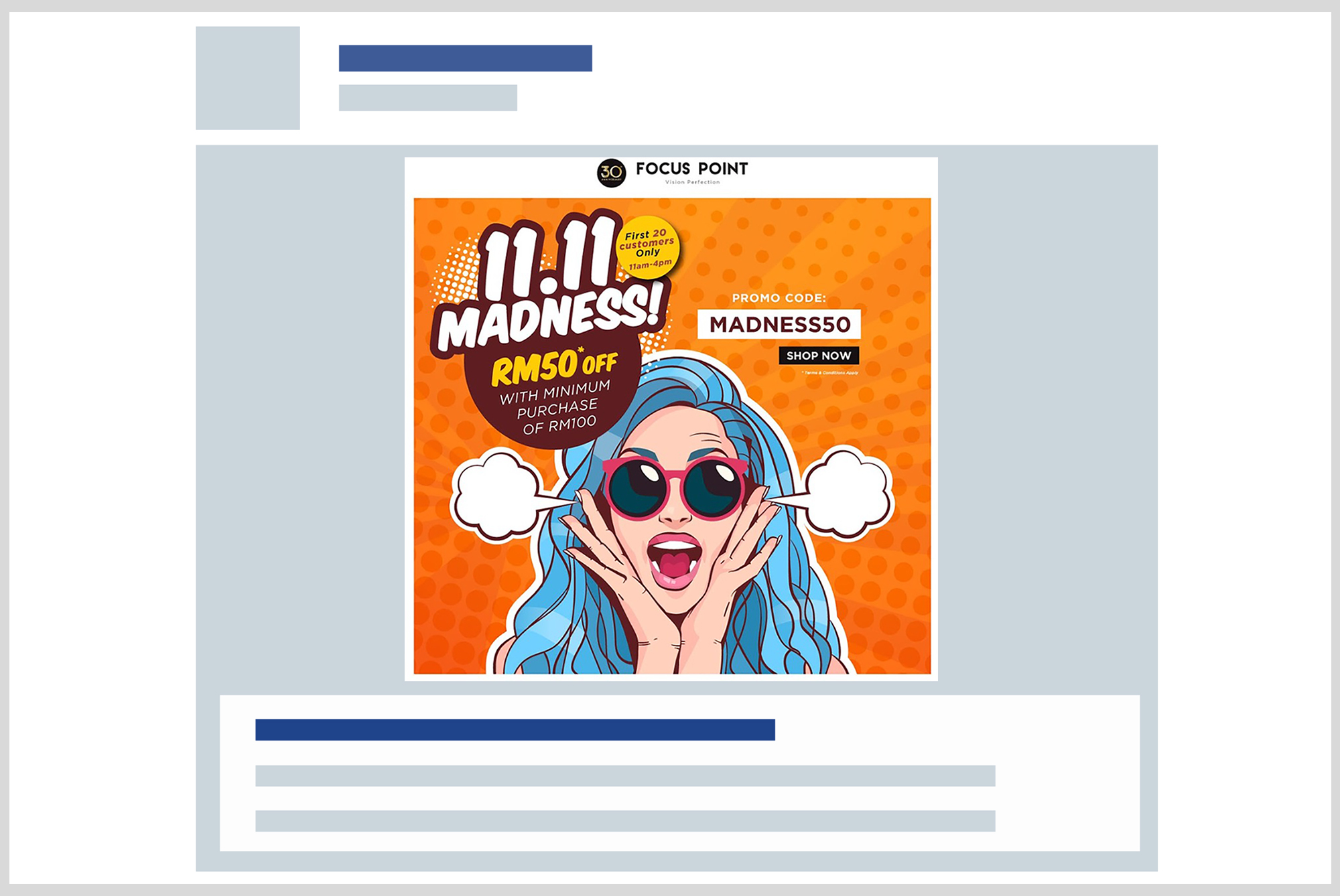 Be sure to use high-intent keywords in your search and digital marketing campaigns to increase conversion rates. High-intent keywords can help identify shoppers who are close to making a purchase and are seeking additional incentives to buy, including free shipping, discounts, coupons, or free gifts.
2. Engage existing customers
Based on our experience, about 20% of your existing customers will contribute to 80% of your business's growth. So tapping your customer base can make a big difference.
We'd suggest looking at your customers' purchase history and other relevant data, segmenting them, and reaching out through email marketing with a relevant offer.
Four customer segments are key:
One, New Customers. Entice them with a first-purchase incentive and follow up with a reminder to redeem their offer shortly after.
Two, VIP Customers. Set a lifetime-spent amount to identify these customers, then send them a very special offer. Make it exclusive and make it big.
Three, Active Subscribers. These are subscribers who have opened an email from you in the last 30 days. Because they're already engaged, it would be a good opportunity to tempt them with another offer.
Four, Cart Abandoners. Use automated email reminders to alert these customers to your holiday sale. Call-to-actions such as 'Don't miss out'. 'Limited time offer' or 'Ending soon' can help create a sense of urgency and provide that much-needed push to checkout.
Segmenting your customers and ensuring each offer is tailored to their behaviour and preferences is crucial to getting the most out of your campaigns. Practice the art of customer journey retargeting. Tell your brand story and build an emotional connection with your customers.
3. Get creative with your offers
Experiment with bundle deals, tiered discounts, and only offer free shipping when your customers spend above the minimum threshold.
Nudging your customers to qualify for free shipping is a win-win for all, so approach the holidays with a 'spend more, save more' proposition.
Offer your customers an exclusive holiday deal such as a gift with purchase (GWP), purchase with purchase (PWP) or a discount offer with a promo code. Be creative with your product bundling and use thematic holiday designs.
In summary, it takes only three simple tactics to make an outsized difference to your holiday season. Start courting new customers early, re-engage your customer base with relevant offers, and craft offers that nudge your customers to spend more to save more.
---
Start planning your next holiday campaign.
---