Why Managed ICT Services Matter for Your Business
Maxis Business keeps companies ahead with the right expertise to accelerate business transformation.

Technology is constantly evolving, and it can be challenging for business leaders to keep up with the latest advances. Many find their IT to be reactive rather than proactive, and have encountered the following grievances:

"We didn't achieve our targets due to a lack of Service and Support."
"We had too many service outages and downtime."
"We overspent our budget on tweaks to our business applications that eroded its performance."

These are symptoms of an IT system struggling to keep up with the demands of a growing business in a digital world. If this sounds familiar to you, it may be time to rethink your strategies by exploring alternative solutions to improve your overall IT agility.

Shifting gears without losing cost control
For most business services, IT underpins the business engine, which can require significant capital in building and maintaining the in-house support staff to keep running.

Given the significant pressures to maintain costs, most financial experts would suggest switching to a predictable cost solution, like that of engaging a managed service provider (MSP). This increasingly favoured option is why the global managed services market projected to triple its value by 2025 at USD$356 billion.

MSPs can deliver services, such as network, application, infrastructure, and security, via ongoing and regular support and active administration on customers' premises or via a hosted data centre. Basic services often start with a monitoring service, which identifies potential issues that businesses then resolve on their own. At the other end of the spectrum, comprehensive managed services can cover everything from alerts through problem resolution.

The typical cost components of an IT department, including training, equipment, and personnel, are therefore absorbed by the MSP and presented as a fixed monthly charge, on a subscription basis, to the company. This helps in effectively predicting costs every month when budgeting, whilst maintaining flexibility to scale capabilities.
Navigating digital transformation risks
An MSP can also manage risks along the company's digital transformation journey by contributing their own proprietary methodologies and access to modern infrastructure and software.

For example, your MSP can assign your business its own 'pit crew' to manage security and compliance matters. This team would consist of accredited subject matter experts with deep understanding of the latest data protection policies to help you maintain client data and sensitive competitive information.

This enables adherence to best practices and minimizes risk involved in the service delivery, whilst freeing up internal ICT resources to focus on business-critical functions.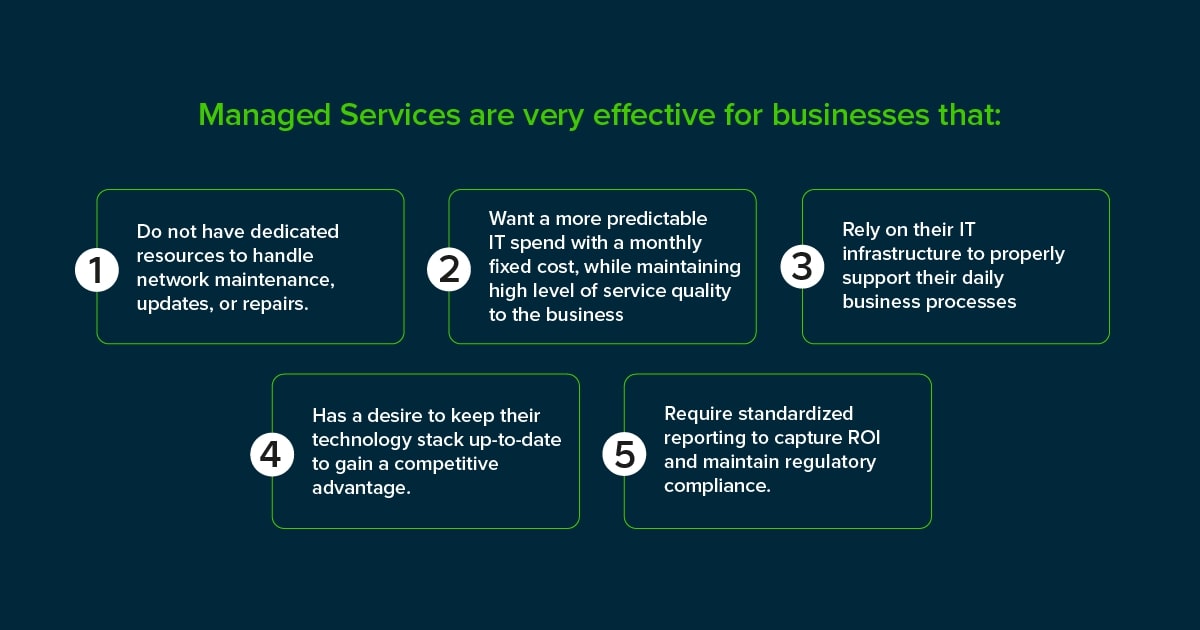 No time for downtime
Whether your business is small or large, time is money.

Even the shortest downtime in mission-critical IT applications can cost a business significantly. At worst, reputational risk could be a factor when the outage comes to the attention of those outside the company potentially eroding public trust.

Many times, mission-critical applications involve multiple technologies and require them to be fully operational and integrated to achieve the IT service expected.

An MSP can ensure maximum uptime and minimal service interruptions by providing 24/7 monitoring of your business' systems. With constant, unwavering expert assistance, your business gets all the help it requires to thrive in today's market.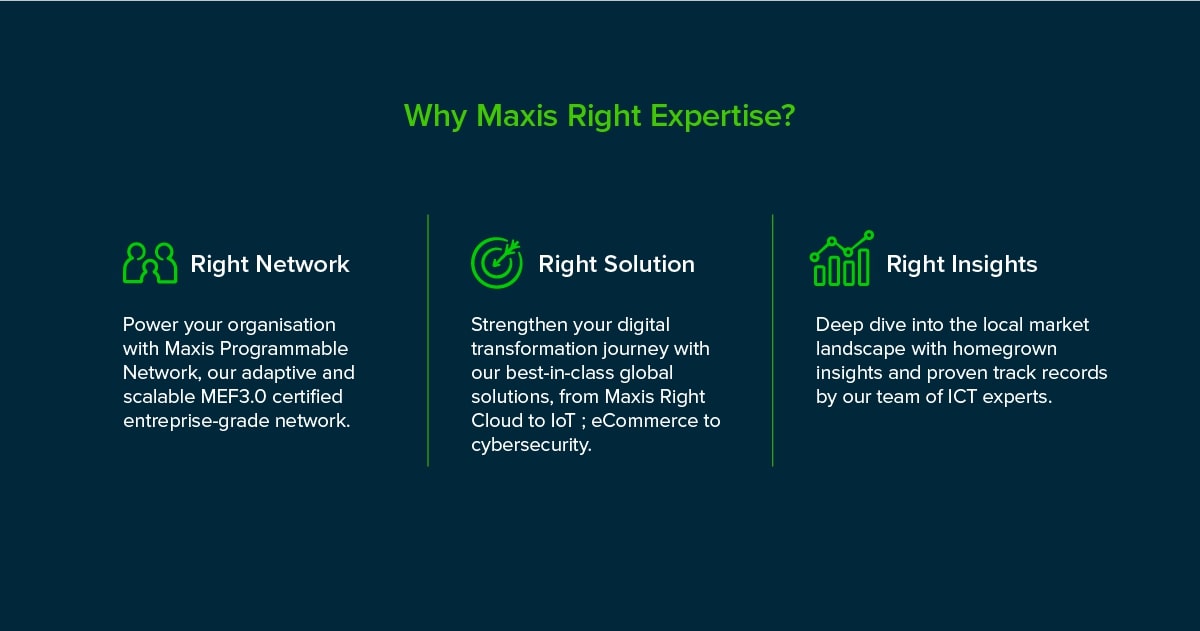 Stay ahead of the race with Maxis Right Expertise
Businesses may be tempted to see managed services as simply outsourcing internal IT functions and in some cases that is exactly what happens.

But a high-value MSP is more like a business partner – augmenting your business' in-house IT capabilities with their own capabilities and resources.

To amp up its journey towards becoming the preferred homegrown converged ICT solutions partner, Maxis has introduced the Right Expertise, its end-to-end fully Managed Network Services and Managed Services, to support the digitalisation of businesses in the country.

Backed by a 230-strong and growing team of globally accredited and certified specialists, Maxis' Right Expertise team is capable of streamlining digital transformation efforts from the planning, to the design and implementation, roll-out and longer-term management of the chosen digital strategy.
Whether it's strategic ICT advisory, managed network services, cybersecurity or managed cloud, Maxis Right Expertise is ready to support your mission to deliver optimal business outcomes.
This article was originally published in The Star on 13 Oct 2022.
---
You too, can bring your business to the next level with us.
---