Biji-biji Adapts and Innovates to Survive
When the MCO was initiated, Biji-biji Designs Sdn Bhd, the main holding company for Biji-biji Group, had to put its business plans and events on hold. The company was not granted permission to carry on operating during the MCO, but it found a loophole that enabled it to continue.

One of its subsidiaries, Biji-biji Ethical Fashion, which turns seat belts into handbags, was the hardest hit. Biji-biji Initiative's CEO Juliana Adam says the making of the bags is usually done in-house, but the MCO did not allow the company to operate to fulfil orders.
'The team was mobilised to transport sewing machines to the tailor's houses, so our production was put back on track,' says Juliana. Still, the company is struggling to generate revenue, as it relies on events, which had to be cancelled because of the MCO.
That did not stop the social enterprise from putting its resources together to help battle the Covid-19 pandemic. The Biji-biji Group (Biji-biji Initiative, Me.reka and Taylors Me.reka Makerspace) went on a media blitz last week, seeking monetary and material donations to make personal protective equipment (PPE) for frontliners.
'We always had it in us. We are a rapid prototyping centre, catering to small businesses that want to mass produce items, but the quantity they want is not big enough for industry players. So, we knew if a hospital wanted 50 pieces of something, we could mobilise our makers,' says Juliana.
It received overwhelming response from people who wanted to help; the donation fund has been closed, with more than RM128,000 collected. The aim is to deliver 17,000 face shields, made using acrylic sheets and transparent and rigid A4 plastic sheets.
Biji-biji cannot do this for long, though, says Juliana. It is just stepping in to fill the gap until the government receives a proper supply of PPE and other equipment. So far, Biji-biji has produced more than 6,000 face shields, delivering up to 1,000 pieces a day to frontliners.
'Our face shields are reusable, so every face shield gets five protective replacements,' says Juliana.
'We aim to deliver 17,000 face shields, but it also depends on whether the government has enough. At the end of the day, we don't want to waste resources.'
The 'cool thing' about the MCO, says Juliana, is that the company was forced to go digital. 'We have always wanted to digitalise our company, but this got accelerated [in the present circumstances]. We're also developing an app to connect makers to suppliers who have the demand.'
Juliana says this initiative of filling the gap between makers and suppliers has already started on its website, mereka.my/protecting-our-frontliners. The page currently shows a list of hospitals requesting items and non-governmental organisations (NGOs) around the country that are able to provide PPEs to hospitals.
The page was set up to make the process more efficient. Juliana says for the first few days, NGOs were calling to ask for help. She explains: 'It was very manual, so we automated the whole thing and it has been working well. The frontliners fill up the request forms and the system automatically informs the makers.
'For example, I'm a maker in Penang and I have this machine that can make the items needed, but after that I don't know who is at risk. So, using the platform, I can filter who needs what and see what I can provide.'
Juliana wishes Biji-biji had gone digital sooner. The team is now brainstorming how to digitalise its production system. It is also looking to do online classes for its maker space, Me.reka, during the MCO period.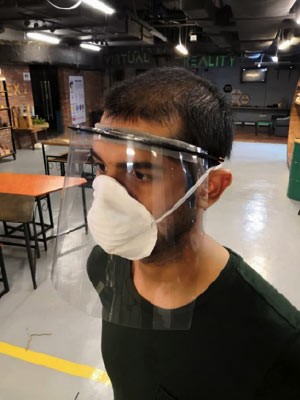 Final product of face shield & mask
---
This article was originally published in The Edge on 10 April 2020.