Maxis eCommerce Case Study: MR.DIY
Homegrown brand MR.DIY has evolved into quite the Malaysian success story. It is now the country's largest home improvement brand with more than 500 stores nationwide. Each of those stores encompasses an impressive average of 10,000 square feet, allowing for an optimal shopping experience.
It was inevitable that it would expand its reach by venturing into eCommerce, starting by entering online marketplaces. While MR.DIY achieved strong sales performance on those platforms, there were also inherent limitations that ultimately led to the creation of MR.DIY's own branded webstore, which went live in June 2018.
What drove the move online? While MR.DIY's retail stores were a source of pride, they were unable to fulfil large volume purchases, and the brand had no presence in more remote areas.
The brand also had to face the complexities in managing an extensive inventory that encompassed 40,000 SKUs over 30 product categories that spanned various online and offline channels.
Another challenging aspect was the lack of a direct relationship with online customers and creating a more personalised, unique shopping experience online.
A new mission
What MR.DIY hoped to achieve was an enhanced, branded shopping experience that would not only reach audiences across various platforms but fulfil customers' orders according to their preferred channels. This goal would be the impetus to increase customer acquisition with the target of 5% per month, driving sales both online and offline.
Apart from that, MR.DIY also aimed to expand their online SKU count to at least 4,000 within one year of the webstore's launch, and allow for the automatic synchronisation of inventory levels in real-time.
The vastness of MR.DIY's inventory proved to be a challenge for customers to navigate, leading to difficulty in locating a specific product in-store. Bulk orders were also often hindered due to supply shortages, demonstrating inefficient inventory management. These issues negatively impacted the customer experience and thus reduced brand loyalty.
Another reason to have a self-owned web presence was to be assured of the capability to sustain high traffic volume, a large inventory with accompanying media assets, as well as a large customer database. MR.DIY had, on average, a monthly footfall of nearly 100,000, across 500 stores, thus the need for a reliable web presence.
It would be regrettable to be unable to fulfil customer purchase intent due to webstore shortcomings such as being unable to support high volumes of traffic, thus crashing or lagging, which would greatly affect online revenue.
The huge inventory database would also be a challenge, likely affecting website loading speed, which would be undesirable due to its negative impact on conversion rates and online revenue.
In remote states where MR.DIY did not have a retail presence, it meant a loss of business opportunity for greater revenue and market share.
While online marketplaces offered more reach for MR.DIY, there was limited access to customer data. This resulted in an inability to understand audience behaviours, manage customer relationships, build brand loyalty, and launch personalised, hyper-targeted digital marketing campaigns that could drive online revenue.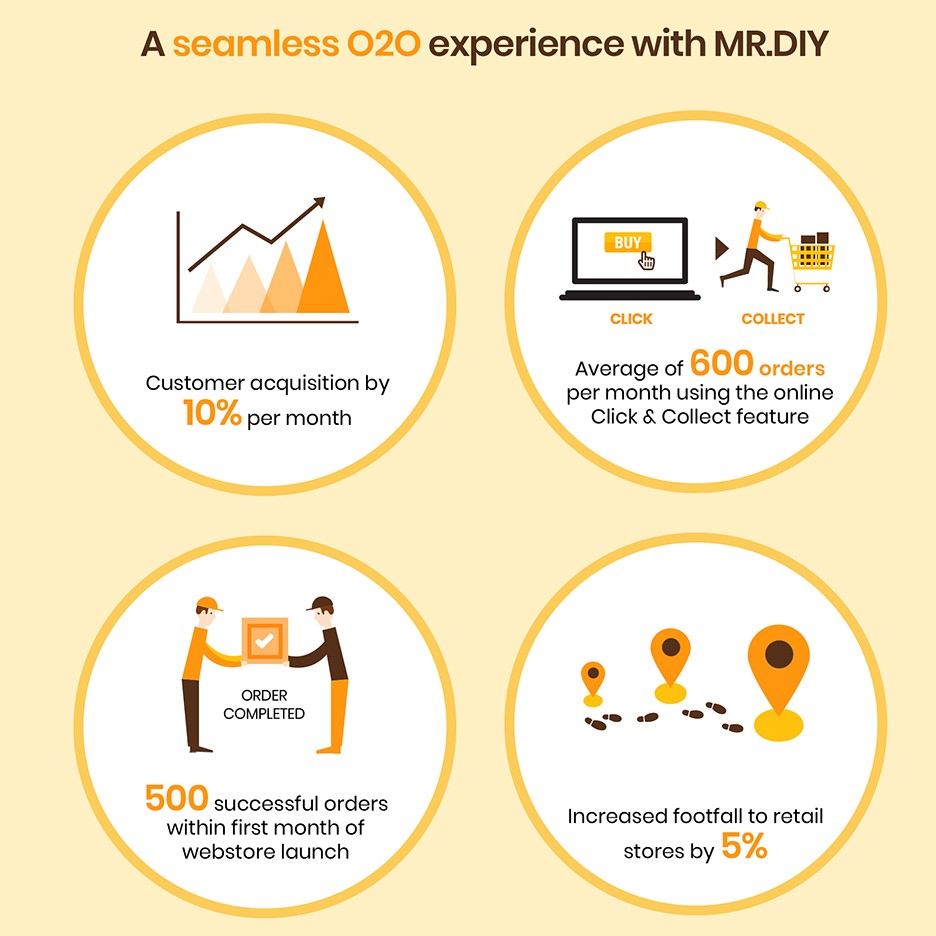 Customer-first design
Maxis eCommerce built a robust webstore for MR.DIY that would meet its requirements and address its concerns. It features an easily navigable online catalogue, properly defined shipping terms, as well as a Click & Collect option (allowing for purchases online to be collected in-store).
Customers could now easily make large volume orders and collect them at preferred retail stores, with an option for Express Delivery (same-day delivery) for smaller orders weighing less than 5kg.
Its large inventory database is now managed via a server infrastructure that was set up to scale automatically based on traffic load, ensuring its webpages loaded quickly at all times. A content delivery network (CDN) was also tapped to further improve page load times, which delivered a 45% boost in speed.
Finally, integrating MR.DIY's existing warehouse management system (WMS) with the Magento 2 content management system (CMS) enabled the brand to automatically synchronise inventory levels and fulfil orders across all channels, via a single, unified platform.
A seamless O2O experience
The numbers prove MR.DIY's approach was successful. The company saw an increase in customer acquisition by 10% and significant online revenue growth within the first month. Today, their Click & Collect feature receives an average of 600 orders per month.
Powered by the Magento 2 CMS, MR.DIY used its customizability, integrative and scaling features for customer relationship management (CRM). By coupling Magento's features with in-depth analytics, MR.DIY was able to activate a strategic first-purchase-incentive campaign.
The campaign targeted new (first-time) webstore visitors and returning visitors who had previously purchased items from MR.DIY retail stores.
Armed with a deeper understanding of its online audience and seeking to build relevance amongst its target audiences, MR.DIY partnered with local celebrity Adibah Noor for the pre-launch campaign.
The campaign garnered good results, seeing an increase in footfall to retail stores by 5% as well as higher than average order values, with 500 successful online orders made within the first month of the webstore's launch.
In summary, MR.DIY successfully delivered a unique and seamless O2O (online to offline) experience that significantly enhanced user experience, while effectively synchronising B2B and B2C operations.
---
You too, can bring your business to the next level like MR.DIY with our award-winning team.
---